About this Item
360° Rotatable Solar Panels and Pinhole Switch
DIM and PIR motion sensor
Energy Savings
Auto ON/OFF Dusk To Dawn
IP65 waterproof
Highly Efficient and eco-friendly solar panels
HeliosGlow solar outdoor motion sensor lights are ideal for night lighting of the front door, backyard, garage, deck, garden, fence, etc. Choose any place with sufficient sunshine to install these solar wall light with motion sensor. It will provide adequate lighting. It is recommended to use Pin to push the On/Off switch before installing.
This motion sensor solar wall light can be rotated independently and flexible to adjust any angle you want. You can use this heliosglow solar outdoor spotlight as step lights, solar fence lights, driveway solar lights, solar post lights, or solar deck lights for safety and easy parking. In Winter, the sunlight will be weaker than in summer, and we recommend letting the solar lights outdoor absorb at least 8 hours of direct sunlight before using.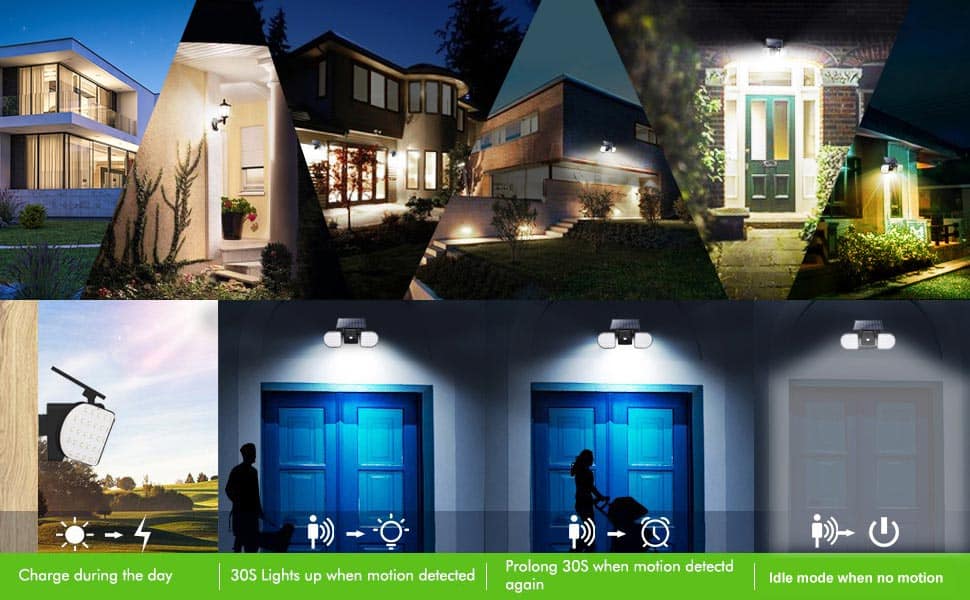 This HeliosGlow outdoor motion sensor solar light auto turn on when motion is detected by its sensors at night; it shines for 30 seconds and then automatically weakens; solar charging 8hrs and up to 12h working time.
HeliosGlow outdoor solar lights are installed with a sensitive sensor ball head. The recommended install height is 5.6-6.6 feet, and it can detect motion up to 10-26 feet away at a 120-degree angle, which sensing range and sensitivity are both 20% higher than others.
The bright mode comes on when triggered by someone passing by the solar light. This solar motion light will automatically turn on when it detects the car. The bright lights will show you the driveway and surroundings.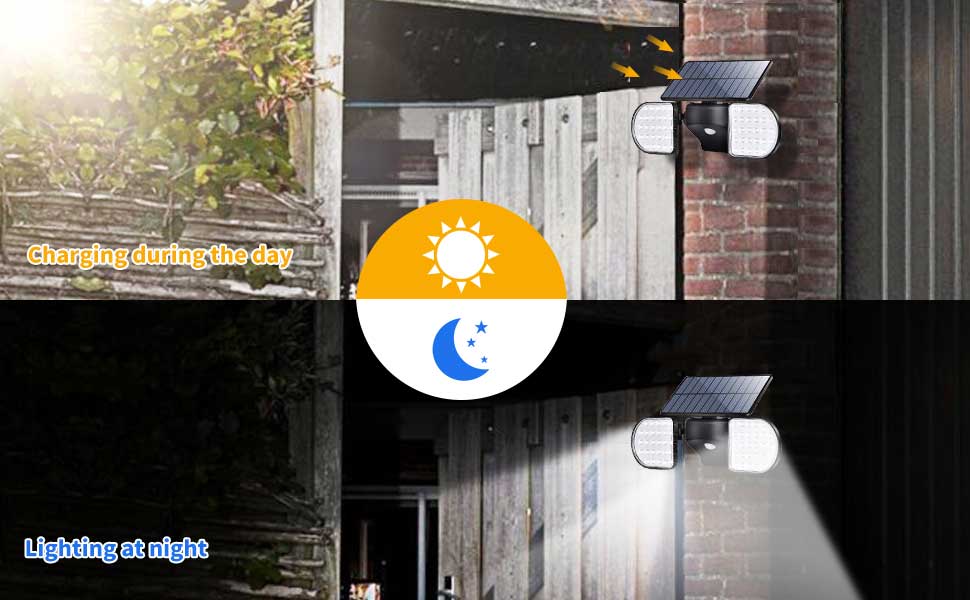 The 5V 1.5W solar motions sensor spotlight panel absorbs the sunshine and converts it into the electricity stored in the battery; it automatically lights up at night/dusk. It doesn't work in the daytime or when another light shines on it at night.
With PET laminated solar panels present, heliosglow 56 LED solar lights' solar energy conversion efficiency has reached 19.5%, which is 3% higher than general solar light. (general solar lights only 16.5%). This means HeliosGlow solar motion light is faster and high-effective while charging. Compared with electric lights, HeliosGLOW outdoor solar lights are more economical and help reduce your electric bills.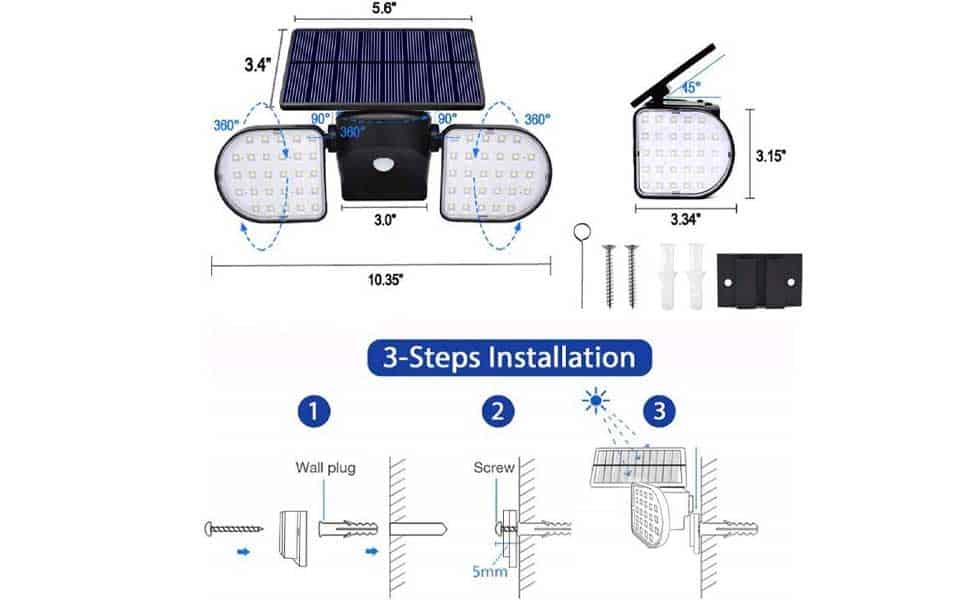 This outdoor motion sensor solar light is equipped with IP65 waterproof technology. This garden wireless solar spotlights can be mounted on the wall with screws, and it is suitable for any weather conditions and patios, lawns, patios, or viewing decks. Made of high-quality ABS material, heliosglow 56 led solar lights are pretty solid and durable enough for a longer lifespan.
This product is designed with dim mode to increase product life span, and with 56 pieces of high power LED beads, this heliosglow solar security light can offer 30000 Hours+ service time. You can even opt for 100 LED motion sensor solar wall light or 158 LED motion sensor solar wall light for larger coverage area and extended service hour. This solar motion sensor light stays on for 30 seconds or as long as someone moves around it.
Light Fixture – Floodlight
Power SourcE – Solar Powered
Usage – Outdoor
Special Feature – Waterproof,Motion Sensor and Dimmable
Material – Plastic
Room Type – Pathways,driveways,garden,fence
Item Dimensions – ‎‎‎‎‎‎‎6.3 x 4.4 x 3.9 inches
Luminous flux – 800 Lumens