About this item
Sensitive PIR motion inductor
LED lights with wide-angle illumination
High Efficient solar panel
3 modes option
IP65 Waterproof
Easy to Install
If you want brightness and security in your garden, on your front door, in your garage or deck where it's dark at night, it's a good idea to invest in HeliosGlow 120 LED solar lights. These HeliosGlow solar lights can withstand extreme weather conditions with waterproof coating and heatproof coating. This product's bright and focused concentration of light has a wide range of casting, which brightens up large areas.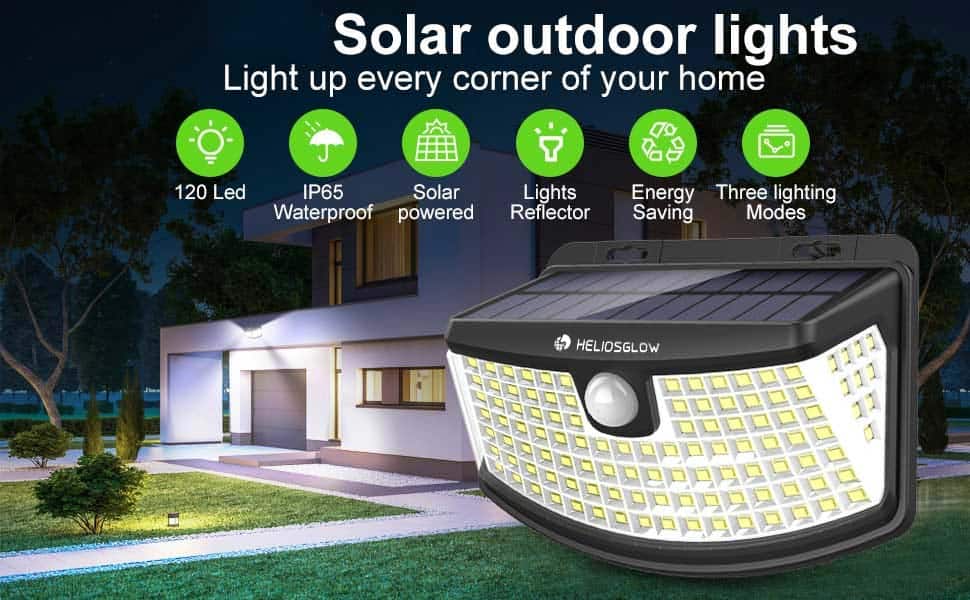 The HeliosGlow 120 LED solar light has a sensitive PIR motion inductor feature, which is fantastic for your garden or yard security, especially at night. With this security focus, Motion Sensor Detector and PIR sensor can detect people up to 26 feet at an angle of 120 degrees.
The motion sensor of this product turns the light on when any passing object triggers it and automatically turns off after 15 seconds. After 4-5 hours of exposure to sunlight, the solar panel can light up a garden all night. This product also contains a rechargeable lithium-ion battery.
This HeliosGlow 120 LED outdoor security solar light has three Optional Modes to choose from, the first mode is security light mode, and the security night mode detects motion at night. When this mode detects motion at night, the motion sensor automatically turns the light on for 15 seconds and off.
The second mode option is permanent On all-night mode; this mode lets the light turn on automatically at night and stay ON for the entire night. The third mode option is Smart brightness control mode; in this mode, the Light stays all night and turns light brighter when it detects motion at night.
HeliosGlow solar light automatically detects changes in the brightness of the external environment. When the brightness is low enough, it automatically turns on all night without motion detection.

The HeliosGlow solar light contains a Highly Efficient Solar Panel. Our Solar Panel is energy-saving with PET laminated solar panel and LED lights, up to 20.5% Conversion Rate with 1. 2W Monocrystalline silicon. You can expect maximum solar energy conversion and higher solar light working time. Also, the High-efficient LED lights with wide-angle illumination can improve lighting utilization.
Light Fixture – Spotlight
Power SourcE – Solar Powered
Usage – Outdoor
Special Feature – Waterproof and Motion Sensor
Material – Plastic
Room Type – Garage
Item Dimensions – ‎‎‎‎‎‎9.96 x 6.73 x 3.5 inches
Luminous flux – 450 Lumen