About This Item:
Solar Panel: 2V 80mA panel
Solar Light Color: Neon Green
Solar Light Source: LED bulbs
Battery: NI-MH AA 1.2V 600mA
Charging time: 6 – 8h
Working time: 8 – 10h
Material: ABS material
Waterproof: IP55
Installation range: Yard, Pathway, Patio, Garden, Backyard, Porch
HeliosGlow offers a fantastic product range of solar pathway lights as a decorative piece for your yard, pathway, garden, porch, etc. HeliosGlow Neon Cactus outdoor solar lights add eye-soothing illumination at night in your garden, especially for the visitors and the people who pass by the garden. Neighbors, family, and friends will love this product, especially its decorative aspect and unique cactus structure. Solar cactus lights will blend perfectly with your garden, pathway, or backyard.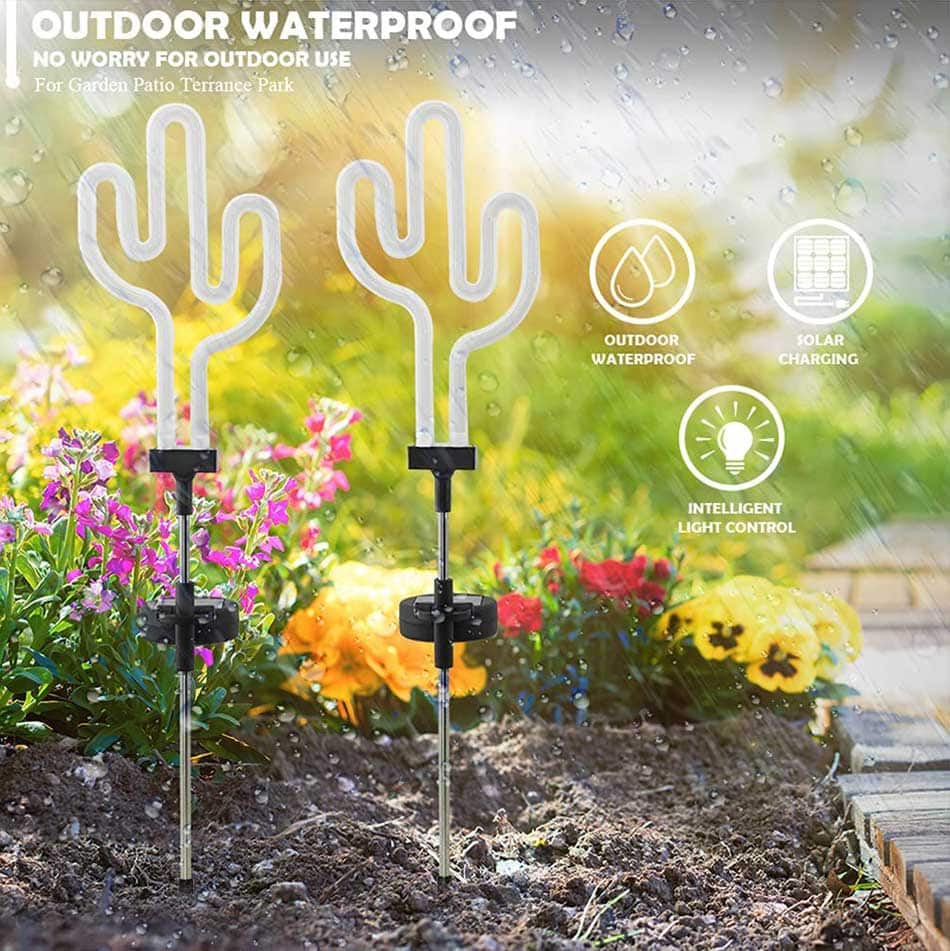 The HeliosGlow solar LED neon green cactus light has a green color to match the surrounding plants and grass of the garden. Cactus outdoor solar lights have an intelligent light control feature that allows the solar light to be automatically turned on at night and turned off in the daytime.
After it detects the sunlight, the solar cactus lights switch off automatically and go into charging mode for the rest of the day. The charging time for solar cactus garden lights is 6 to 8 hours, and the expected working time is 8 – 10 hours.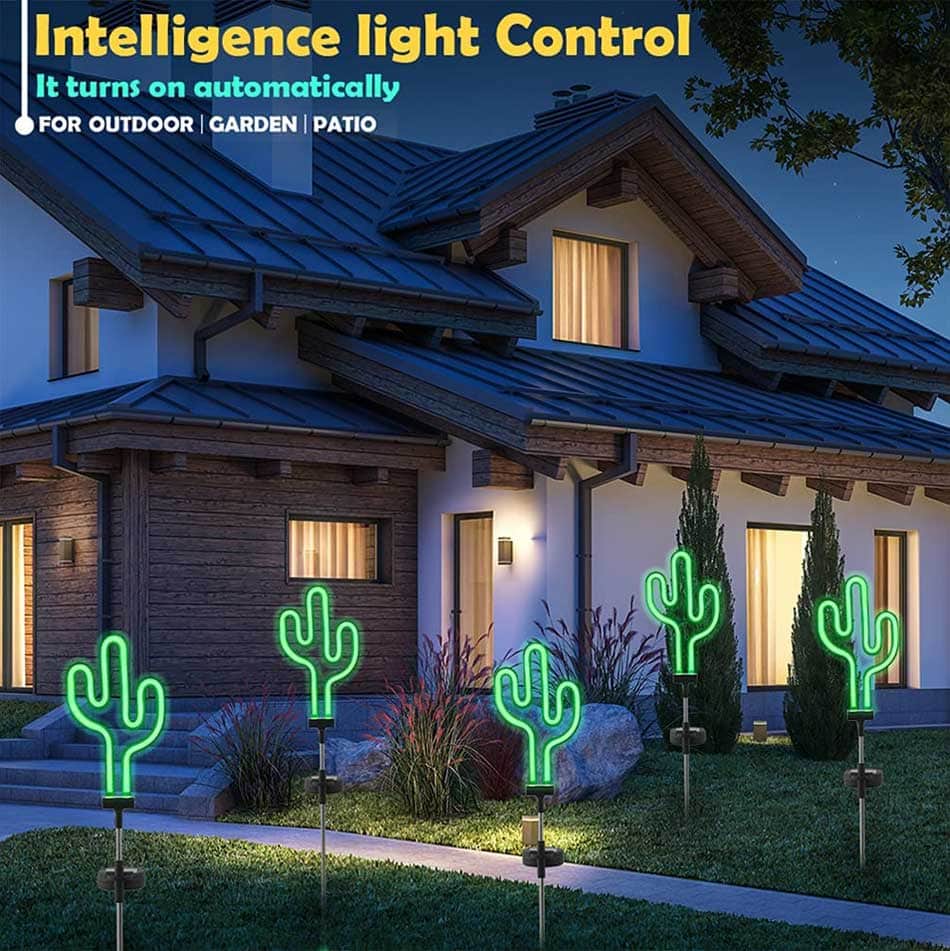 But the charging time may vary according to the sunlight intensity. The fastest charging time you expect is 6 hours in high-intensity sunlight. And for a cloudy day in low-intensity sunlight, the charging time is 8 hours or more. Note: Turn the switch on the solar light for the first time. The heliosglow cactus pathway light body is built with ABS material, which makes the light durable and increases its lifespan.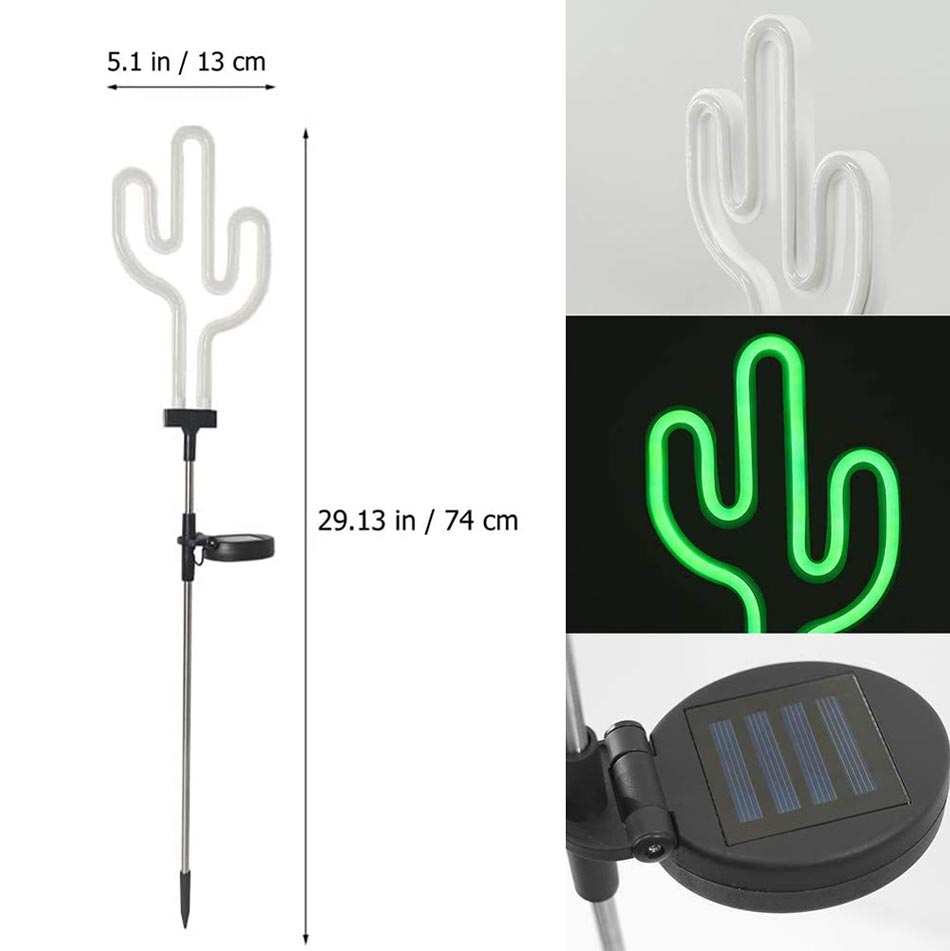 The solar cactus garden lights are IP55 waterproof graded due to ABS material and IP55 waterproof technology. Solar cactus lights can withstand heavy rainfall, snowfall, wind, and dust without taking any major damage. This solar light is equipped with a 2V 80mA panel and NI-MH AA 1.2V 600mA.
Thus, it is energy efficient and saves plenty of electric bills. For maximum output from the solar panels, always install the solar cactus lights at places with the possibility of maximum sunlight and keep them away from shade during daytime for effective charging. The installation of solar cactus garden stake light is simple. 
Light Fixture – Decor Light
Power Source – Solar Powered
Usage – Outdoor
Special Feature – Waterproof, Intelligence Light Control
Material – ABS plastic
Usage Type – Pathway, garden, patio, backyard, porch, yard
Item Dimension – 14×74 cm