About this item
Ultra Bright Solar lights
3 Light modes
1800mAh large battery
IP65 Waterproof
Highly Efficient and eco-friendly solar panels
HeliosGlow solar wall lights are ideal for night lighting of the front door, backyard, garage, deck, garden, fence, etc. During the day, the solar panel converts solar energy into electricity and stores it with a rechargeable battery. The lighting duration depends on sunlight exposure, the installation's location, weather conditions, and daylight hours.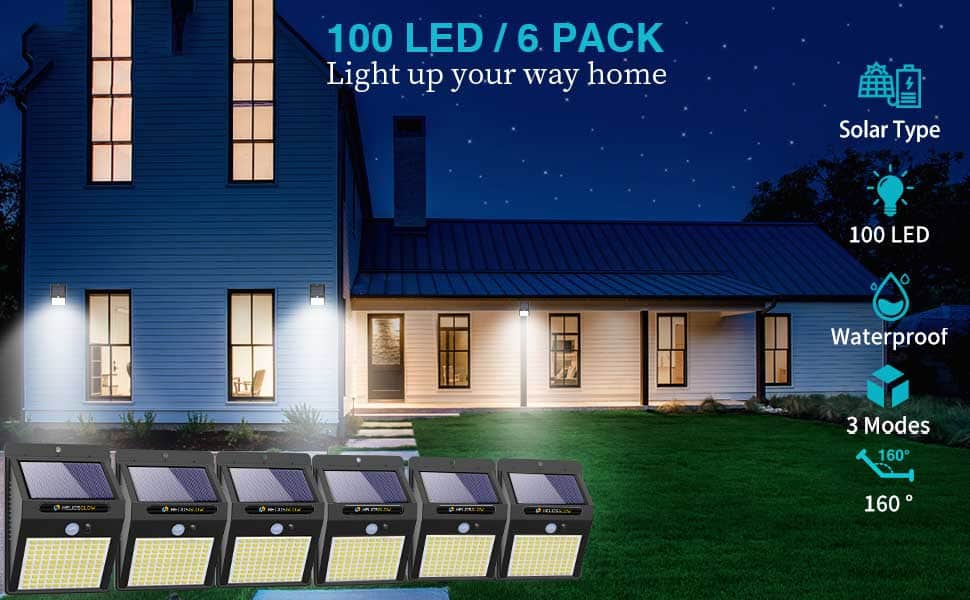 The HeliosGlow solar motion lights are ultra-bright. Wider Illumination Coverage is equipped with 100 LEDs; HeliosGlow solar motion lights offer a larger coverage area of luminosity, illuminating space about 30㎡ at night. This incredible 6-piece package solar motion light can illuminate your front door, backyard, garage, deck, garden, fence, etc.
These solar powered motion security lights can be installed on the front door. You won't have to worry about finding your keys at night. HeliosGlow motion sensor solar lights are solar powered for your garage and easy parking. After installing this solar light in your garage, you will never worry about hitting the wall. You can put our solar lights in your yard to get enough light when the kids play at night.
The HeliosGlow solar motion sensor lights have 3 modes to meet your different needs. The first light mode is the medium-brightness mode, which keeps constant light at night, and automatically turns off during the day.
The second mode is low light induction mode, low light + induction mode, the light stays low when no object is detected, and the light changes from low to high when an object is detected, and then becomes low after 15 seconds.
And the third light mode is induction lighting mode, When no person is detected, the light will be highlighted and kept for 15 seconds, and it will remain off when it is not detected, saving energy and electricity.

The powerful sensor ball head that is present on the upper part of the solar light provides a powerful motion sensitivity range up to 10-16 feet, providing convenience and safety for your life. With 100 LEDs, these solar wall lights can provide a super bright illuminance for a wide area.
It contains a built-in 1800mAh Li-ion battery; these HeliosGlow solar security lights can light up for 8-10h after fully charged. This solar motion sensor light is a complete home security version, very suitable to meet your needs all night.

The HeliosGlow solar motion sensor lights are made for extreme weather conditions. These solar lights are weather-resistant; with IP65 waterproof technology, HeliosGlow solar security lights with motion sensors can withstand all kinds of weather conditions. Even if it snowfalls and freezes, this product can pass the winter without any problems.
Light Fixture – Floodlight
Power SourcE – Solar Powered
Usage – Outdoor
Special Feature – Waterproof and Motion Sensor
Material – Plastic
Room Type – Backyard,Garden,deck,fence
Item Dimensions – ‎‎‎‎‎‎‎1.94 x 1.47 x 0.74 inches
Luminous flux – 800 Lumens