About this item
Advanced 1.5W Monocrystalline Silicon Solar Panel
Improved Brightness and 2 Working Modes
Independently Adjustable Light & Panel
Outstanding Durability & Quality Guaranteed
Easy Installation in 2 ways
Landscaping is a great way to add curb appeal and beauty to your home, and a good solar spotlight is an essential in the evening. HeliousGlow solar spot lights are the perfect choice to showcase your beautiful gardens with the amount of detail and design you put in.
HeliousGglow solar spotlight comes with a wall mounting interface and a ground spike, which is perfect to be stuck into the ground or mounted on the wall without the wire required.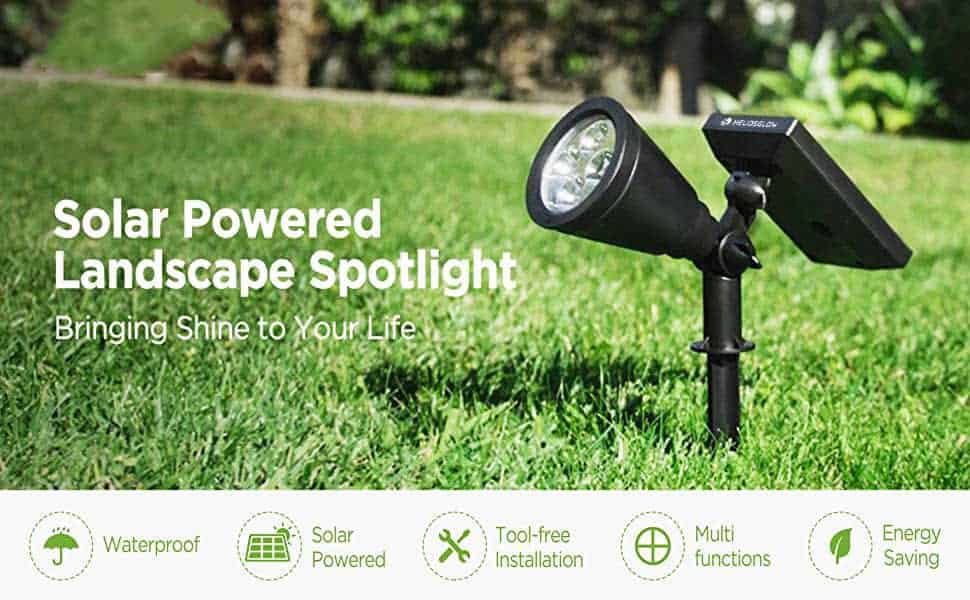 This heliosGlow outdoor solar spot light comes with a super brightness feature; this heliosGlow solar spotlight can cast a focused ray to highlight your garden and landscape's beautiful sculpture or flagpole. Even if the sky is dark, you can expect exceptional brightness offered by this solar spotlight. You can set the working time of this solar spot light from high Mode, i.e. maximum 6Hrs, to Low Mode, i.e. maximum 12Hrs, to extend its working time.
It isn't easy to get enough solar absorption while pointing the light-up, especially with combined light panels. HeliosGlow solar spotlight delivers flexibility when it absorbs sunlight for the solar panel.
But with heliosGlow solar spotlight, rest assured you can easily rotate the solar panel at 180° upward and in a downward direction to capture solar energy effectively while obtaining the best lighting angle for your solar panel to get maximum output; this outdoor solar spot light head can be easily rotated at 90° to illuminate any place that would be out of reach of the solar spot lights.
The heliosGlow solar spot light contains solar panel of premium quality with the latest technology. The conversion rate for this solar panel is about 30% faster than any older version of panels, possibly due to upgraded technology and material use.
This heliosGlow solar spotlight detects the surrounding light conditions and automatically turns the switch ON/OFF; as a result, you can expect a smooth solar panel surface which keeps dirt and debris from accumulating and blocking sunlight.

The HeliosGlow solar spotlight is absolutely durable, and you can expect a guaranteed quality product. This product is resistant to weathers like rain, wind, burning sun, and extreme weather conditions. This product is high-quality and certified by FCC, CE, RoHS, MSDS, UN38.3, etc.
Coming to the installation part, the product package comes with a kit that includes all the required tools you need to install the heliosGlow solar spotlights by either staking solar spotlights into the ground or mounting the solar spot lights onto a wall. The HeliosGlow solar spotlights are Optimum for Patio Porch Path Deck, Pool, Yard, Garden Garage Driveway Pathway, etc.
Light Fixture – Spotlight
Power Source – Solar Powered
Usage – Outdoor
Special Feature – Always on
Material – High-impact ABS Plastic & High Efficiency Monocrystalline Silicon
Room Type – Deck, Patio, Garden
Item Dimensions – ‎‎‎10.24 x 3.35 x 12.6 inches