🌞 Introducing the HeliosGlow 32 LED Solar Spotlights! 💡
These energy-efficient 💰 spotlights are perfect for illuminating your outdoor spaces. With a durable IP65 rating, they can withstand even the toughest weather conditions. The 32 LED bulbs provide bright and long-lasting illumination, making them ideal for lighting up your garden, patio, or driveway.
What sets these spotlights apart is their solar-powered design. No need for pesky cords or outlets – just place them in a sunny spot and let the sun do the work. And with a 2-pack, you'll have plenty of coverage for all your outdoor lighting needs.
So why wait? Brighten up your outdoor spaces with the HeliosGlow 32 LED Solar Spotlights. Order yours today and start enjoying the convenience and energy savings of solar-powered lighting. 🌞💡🌿
About this item
Comes with 1 year replacement warranty!
Long Lighting time and adjustable solar panel
Outdoor solar spotlight with 3 modes
Multiple uses with 2-in-1 functionality
IP67 waterproof with Strong ABS material
Eco-friendly and Easy to Install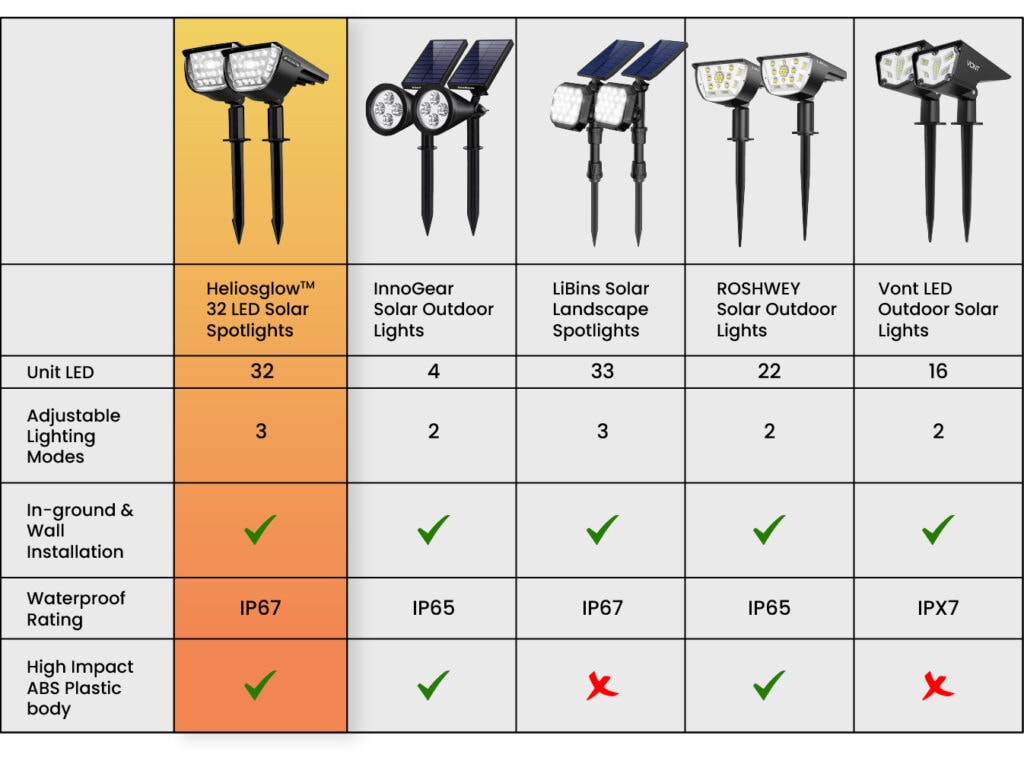 We at HeliosGlow, offer a range of solar led spot lights of which this model can be widely used for garden, fence, wall, stair, garage, cellar, attic, front porch, camping, fishing, etc.
Best of all, these are pleasantly bright — LEDs in the light cast a safe, soft, mood-enhancing glow. The HeliosGlow 32 LED solar spotlight comes with a wall mounting interface and a ground spike, perfect for being stuck into the ground or mounted on the wall without the wire required.
Convenient Charging:
This solar spotlight has a built-in rechargeable 3600 mAh Li-ion battery. After a full day's sunlight, these can easily keep your garden illuminated all night. Further, you can optimize charging based on your location by adjusting the solar panel through its 90° range.
3 Working Modes:
Dim mode, Bright mode and Highlight mode. These outdoor solar spot lights can be separately used for 25 hours, 15 hours, and 8 hours after fully charging. Based on your brightness preference, you are free to choose the mode you want. You just need to turn the lights on for the first time and mount them at a convenient spot with adequate sunlight.
Sturdiness and Weather Resilience:

HeliosGlow solar spotlights are waterproof, made of high-strength ABS material, and have an IP67 waterproof rating. This implies, these lights can keep illuminating your garden in any and all weather conditions. These high-quality solar spot lights are certified by FC, CE, and RoHS.
Dual Installation Approved:
This solar spot light has a specially designed ground stake and wall bracket, which you can easily insert into the ground and use the solar spotlight as a landscape light or fix it on the wall as a wall light. No wiring is needed in either cases.
---
HeliosGlow solar spotlights will light up your patio, porch, deck, pool, yard, garden, garage, driveway, pathway, with extreme ease. The 32 LEDs solar landscape spotlights set is brighter than the ordinary outdoor spotlights on the market, thus boasting larger areas covered per light.
To maximize the lighting effect, please install the solar lights where the sun can directly shine, and ensure there is no shelter above the solar panel, such as eaves and trees.
Whether these solar landscape spotlights can produce the best lighting effect or not also depends on sunlight intensity, geographical location, weather, seasons and other inevitable factors outdoor. These might not be the best lighting solution for you if your lawn is permanently covered in snow.
Light Fixture – Spotlight
Power Source – Solar Powered
Usage – Outdoor
Special Feature – Waterproof
Material – Acrylonitrile Butadiene Styrene and ABS
Room Type – Deck, Patio, Garden, Attic, Garage
Item Dimensions – ‎‎‎‎3 x 3 x 3 inches
Luminous flux – 300 Lumen