Product Details:
Ultra Bright & Adjustable solar panel
2 Working Light modes
Premium Quality and Weather Resistance
Contains High-efficiency 1.5W Larger Monocrystalline Silicon Solar Panel
Easy Installation
If you reside in an area without street lights where it's dark at night, it's a good idea to invest in HeliosGlow solar spotlights, which are both practical and decorative. With waterproof coating, these HeliosGlow solar spot lights can withstand extreme weather conditions.
This product's bright and focused concentration of light has a wide range of casting, which brightens up large areas and is great for increasing the appeal of your home and adding a lot of ambiance for parties and romantic evenings in the garden.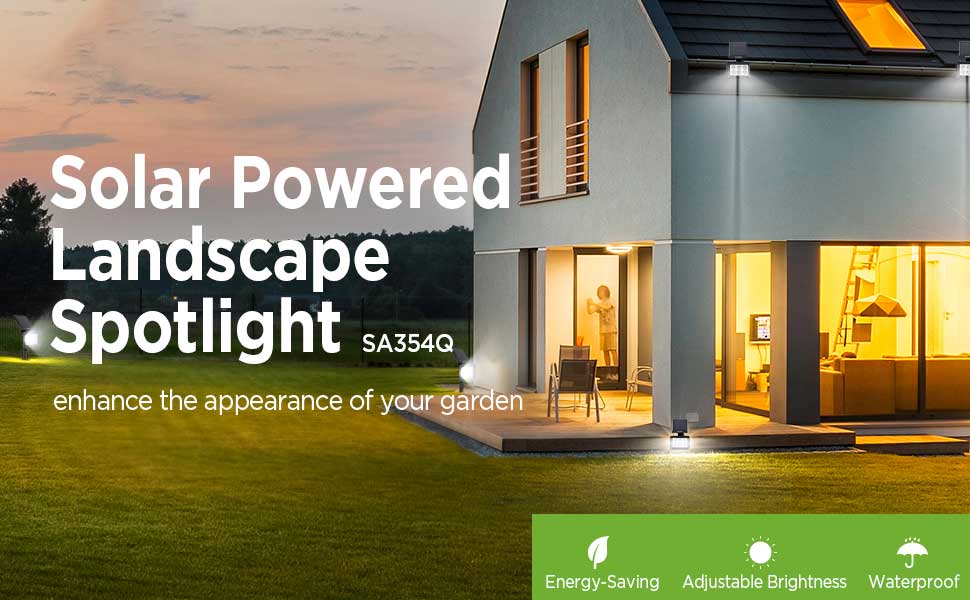 The photoelectric conversion rate of this HeliosGlow solar spotlights solar panel is 30% quicker than the basic version of a solar panel by using the premium material and newest technology in solar panel, allowing the solar panel to be in a better condition all the time.
This HelosGlow Solar spotlight has a built-in light motion sensor (not a PIR motion detector), with auto-on at dark/auto-off at sunrise features to provide security lighting at night.
The HeliosGlow solar spotlights have an Upgraded solar spot light with a built-in 6 high brightness LED beads which increased the visible area and light utilization. The solar panel of this outdoor solar spot light is bright and adjustable.
With the high light mode, this solar spot light fully uses the collected solar energy to achieve maximum lumen output at night. This solar spot light has an independent adjustable solar panel that can be rotated at 180° upward and downward to get the sun exposure. The maximum adjustment of the solar light head is 90° to illuminate all darkest places.
The HeliosGlow decorative solar spotlights have 2 working modes, i.e., High Light Mode with a working time of 6 hours and Low Light Mode with a working time of 10 hours. HeliosGlow outdoor solar landscape lights work automatically without needing any electricity as the big solar panel absorbs the sun light and generates power for the sun spotlight.
And these solar spot lights detect brightness changes in the external environment to provide illumination to light your home. Also, Winter sunshine is limited in some areas, which may shorten the working time even with a full charge.
The HeliosGlow outdoor solar spot lights installation is fairly easy. The product package will come with an installation kit that includes all the tools you need to install the lights by either staking the spotlights into the ground or by mounting the spotlights onto a wall and are attached to the base, which can be rotated to suit a variety of angles. Optimum for the courtyard, patio, porch, terrace, swimming pool, garden, garage, lanes, etc

This HeliosGlow spotlight has a great premium quality built and can withstand extreme weather conditions, such as snowy days, heavy fog days, etc. This product's quality is certified by FCC, CE, RoHS, MSDS, UN38.3, etc.
Light Fixture – Spotlight
Power SourcE – Solar Powered
Usage – Outdoor
Special Feature – Waterproof and Heatproof
Material – Acrylonitrile Butadiene Styrene
Room Type – Garden,Garage
Item Dimensions – ‎‎‎‎‎8.86 x 4.76 x 18.31 inches
Luminous flux – 240 Lumen