🌟 Introducing the HeliosGlow 4LED Solar Lawn Spotlight Garden Landscape Lights 🌟 – a stylish and energy-efficient 💡 way to add some extra illumination to your outdoor space. These solar-powered spotlights come in a pack of two 🎁 and are perfect for illuminating pathways, gardens, trees, and more.
Featuring four bright LED bulbs 💡, these solar landscape spot lights provide a powerful beam of light 🌞 that is sure to catch the eye. The lights are easy to install, simply stake them into the ground and let the sun do the rest 🌞. The built-in solar panel absorbs energy from the sun during the day, allowing the lights to turn on automatically at night 🌙.
The HeliosGlow Solar landscape spot lights are made from durable, weather-resistant materials 🌧️, so you can enjoy them year-round, rain or shine. They are also adjustable, so you can angle the light in any direction to highlight your favorite features in your outdoor space 🌳.
With their sleek design and energy-saving capabilities 🌎, the HeliosGlow Solar Lawn Spotlights are a must-have for any outdoor enthusiast looking to add some extra light and style to their space 🏡. So, if you want to add a touch of sophistication to your outdoor décor, these warm white led solar landscape lights are a perfect choice 💡.
About this item:
Solar Panel: 2v/100ma panel
Spotlight Color: white/warm white
Spotlight Source: 4PCS beads
Battery: 600mAh Battery
Charging time: 6-8h
Working time: 8-10h
Working mode: Smart control
Material: ABS
Installation range: garden, courtyard, park, pathway
Compact in stature, robust and practical in design. These small solar garden landscape lights are just what you want to illuminate small to medium-sized lawns and gardens. Do not confuse their small build for weak performance. These garden solar spot lights are bright and will brighten up a big patch in your garden. Their design makes them ideal for installing in soft soil in your garden, courtyard and as uplights of trees.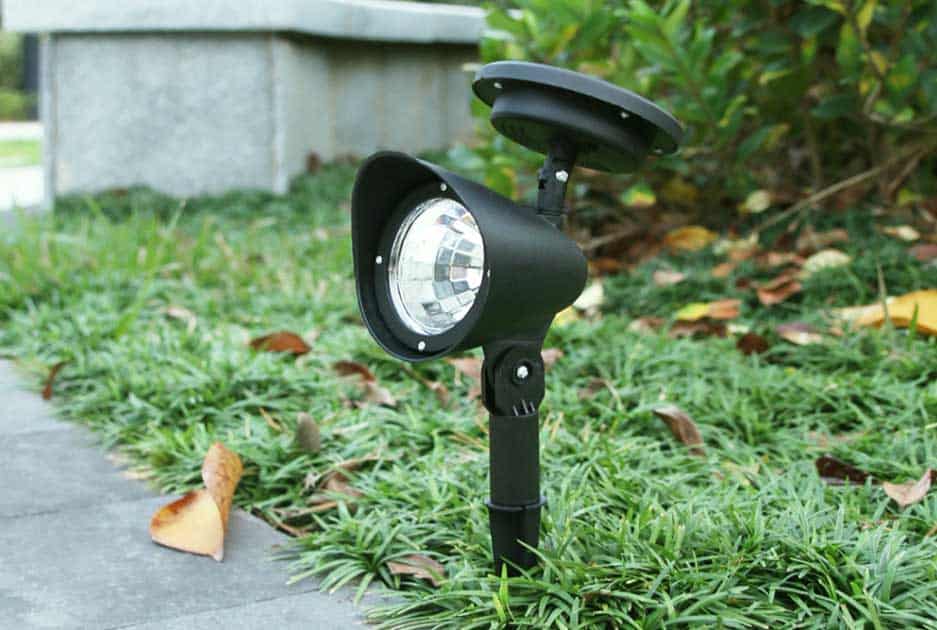 These warm white led solar landscape lights are made from ABS-grade plastic, giving them high resilience towards harsh weather conditions. An IP65 waterproof rating further shows that they can take weather inconsistencies head-on without incurring any damage. These come in two variants, white and warm lights.

The design of these decorative solar landscape lights includes two hinges, one each giving the light and solar panel a free range of rotation of up to 180°. Further, there's a 360° horizontal rotation joint for the solar panel to direct it towards the direction of sunlight. These solar spot lights charge fully in 6 to 8 hours of sunlight and work well for up to 8 to 10 hours. The charging and operation too, is automatic and doesn't require any manual intervention.
Light Fixture – Spotlight
Power Source – Solar Powered
Usage – Outdoor
Special Feature – Waterproof, Automatic on/off sensors
Material – ABS Plastic
Room Type – Garden, pathways
Item Dimensions – 30.5 cm