HeliosGlow solar step lights offer a warm light, just the right amount of warm glow, which decorates your home or gardens beautifully, enough to light up your yard and not feel the glare. These solar path lights are ideal for night lighting of the driveway, garden, villa, gate, outdoor steps, pool, etc.
Choose any place with sufficient sunshine to install these 8pc solar step outdoor lights. It will provide adequate lighting and a decorative vibe to your patio, driveway, yard, and pool. These solar deck lights are easy to install, and no wires are required; they can be installed using a tape and screws, and they are best for the decorative purpose.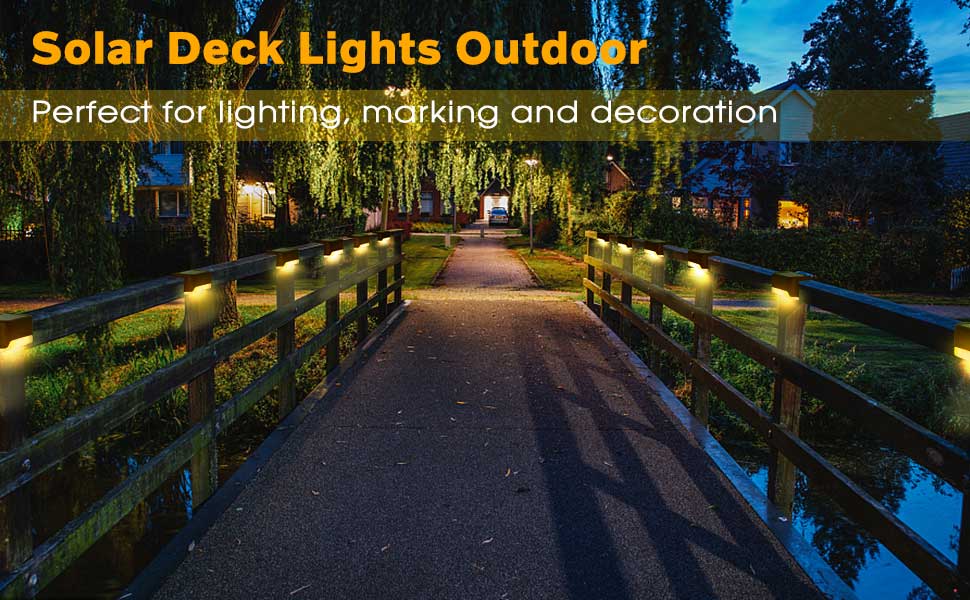 The HeliosGlow solar lights for deck steps has a working time of 8 – 10 hours after 6 hours of charging in the daytime. On the brightest day with the sun in full force, you can charge this solar step light in 4 – 5 hours.
The HeliosGlow solar pathway lights charging is efficient and brightens your backyard, pool, garage, lawn, and garden all night with a single charge. This solar driveaway light has an automatic working mode. It has no turn-off/switch; rather, it turns on at dusk and off at dawn.

HeliosGlow solar steps light is made of ABS material to ensure durability and longer life for the product. Its solar panels have an IP65 waterproof coating; this ensures that the solar deck lights are water-resistant and can be used during heavy rain. With ABS material built, these solar pathway lights can withstand harsh rain, snow, and windy weather.
Light Fixture – Deck
Power Source – Solar Powered
Usage – Outdoor
Special Feature – Waterproof,Auto On
Material – ABS
Room Type – Pathways,driveways,garden,fence,backyard,pool
Item Dimensions – ‎‎‎‎‎‎‎‎7.5x5x3.5cm
Luminous Flux – 3 Lumen