This heliosglow solar pendant shed light has modern and classic elements and style. This solar shed light is perfect and easy to install at the door entry, hallway, patio, yard, under the trees, and tool room or garage. This solar shed light is known to deliver performance as per your expectations. This solar shed light has high brightness to support reading within a 10 ft scope.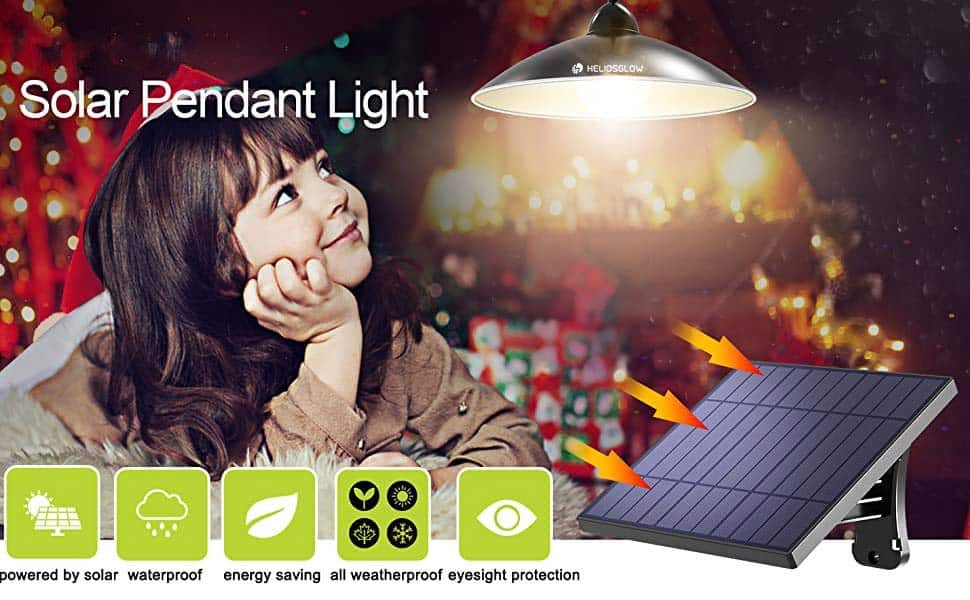 The frost lens present with even light can protect eyesight. This solar shed light has a long light-up time; even on windy days or winter with limited sunshine or in extreme weather conditions where there is very little sunlight, it decreases brightness to ensure a longer light-up time.
This heliosGlow pendant indoor solar shed light supports remote control connectivity; with this feature, it makes your task easy to control this solar shed light. This solar light uses a remote control to control 3 modes of color temperature features which are cool white, warm and neutral color temperature. The remote control also enables you to adjust brightness levels at 50%, 75% and 100%.
With this, you can adjust brightness according to your comfort. You can set light-up timing with the remote control at 2 hours, 6 hours and any other number of hours according to your requirement. Remote control has a power ON/OFF option. It also has one button to set as Night mode for auto ON at the night and auto OFF in the daytime or All-day mode for 24 hours available to manual ON/OFF for garage and tools room application.
We have provided an instruction manual with a lot of images to guide you through the installation process of this solar shed light. We have also included all accessories which are needed for easy installation of this product. Note that Solar panels need to be installed in areas to receive direct sunshine. It is recommended to install solar panels where you can get maximum sunlight during the daytime.
Solar panels could be fixed with cable ties or screws; placed in horizontal or vertical positions. The solar panel and lamp are detachable with waterproof connectors, allowing you to install the lamp indoors but installing the solar panel in outdoor places. The solar shed light has Fcc testing and certification, easy to install and durable to use.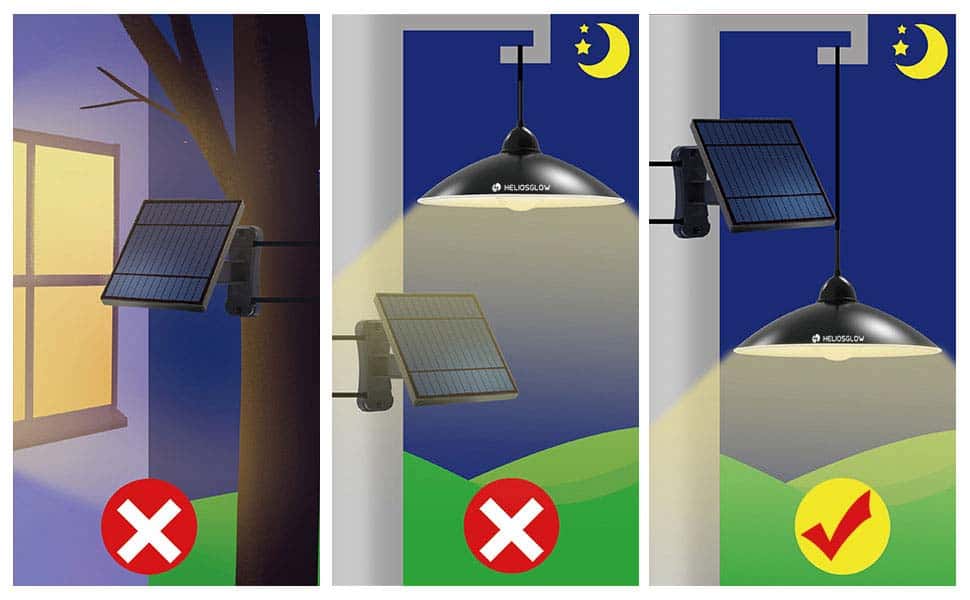 How to Use HeliosGlow solar pendant shed light-
• First, the solar light needs to be well charged.
• Second, push the button "POWER" at the back of the solar panel; the factory default is powered off.
• Third, cover the solar panel to make it dark if it is daytime
• Fourth, push the "ON" button using Remote Control.
• Fifth, if you want to use it in the garage, you need to turn it on anytime and push "Night /All Day" mode at the back of the solar panel; the factory default is "Night" mode.
Light Fixture – Pendant
Power SourcE – Solar Powered
Usage – Indoor and Outdoor
Special Feature – Corded
Material – Stainless Steel
Room Type – Shed, Bedroom, living room, dining room
Item Dimensions – ‎7.09 x 5.12 x 7.48 inches
Control – Remote Control