Illuminate your house in an eco-friendly way with the heliosglow range for solar shed lights. Shed lights provided by HeliosGlow are suitable for both indoors and outdoors they have separate solar panels for indoors and outdoors with a 5-meter-long waterproof wire to use this solar light indoors and outdoors.
This heliosglow 128 LED solar light can be used in places like a shed, chicken coop, balcony, gazebo, garage, home, barn, loft, backyard, basement, garden, yard, patio, pathway hallway, park, porch, corridor, driveway, front door, deck, competent, van, tools room, storage room etc.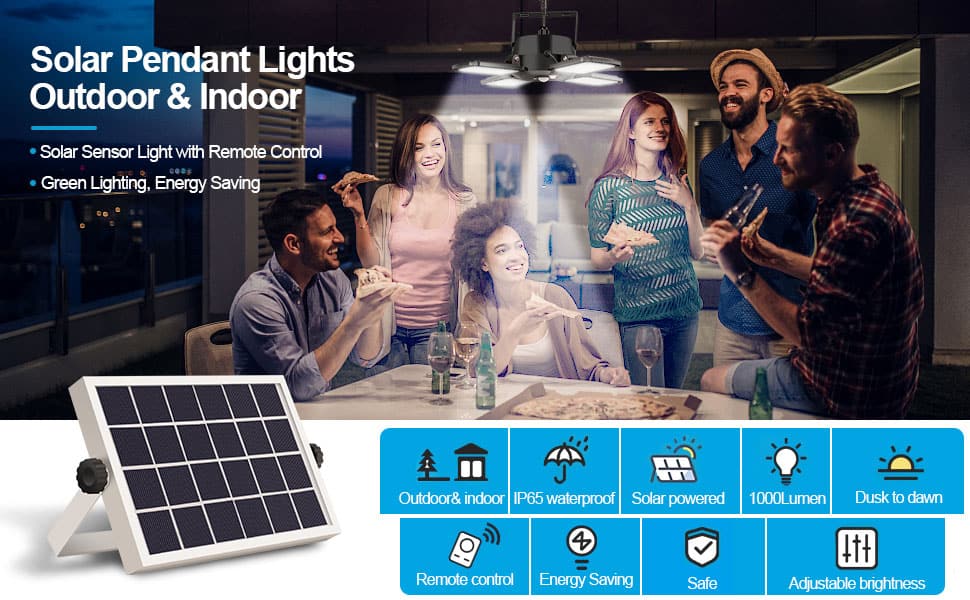 Heliosglow 128 LED solar light comes with an IP65 waterproof material and ABS material; it is built to withstand heavy rain and extreme weather conditions. This solar shed light supports remote control functionality; you get a remote control by which you can switch on/off lights and switch to different modes with a few clicks. You can adjust brightness with the +/- buttons of the remote control.
The four head-led panels can be adjusted to 120° to direct the light exactly where it's needed. Built in 128 white LEDs, it is designed to provide ultra-high brightness illumination for a wide area.
Heliosglow 128 LED solar shed light has four different lighting modes and a motor sensor function. Mode 1 is Dim to Bright with motion at night. Mode 2 is Off to Bright with motion at night. Mode 3: Constant ON at nighttime.
Mode 4 is Off to Bright with motion in the Daytime. Also, note that If the solar pendant light has been connected to the solar panel, Mode 1,2 & 3 will only work when the solar panel is covered by something or in darkness; only mode 4 is for Daytime use.
This indoor solar shed light added a new all-day induction lighting mode 4, which has a switch Off and Motion Sensor High Light; there is no need to cover the solar panels or unplug the wires to make the solar-powered shed light work during the daytime.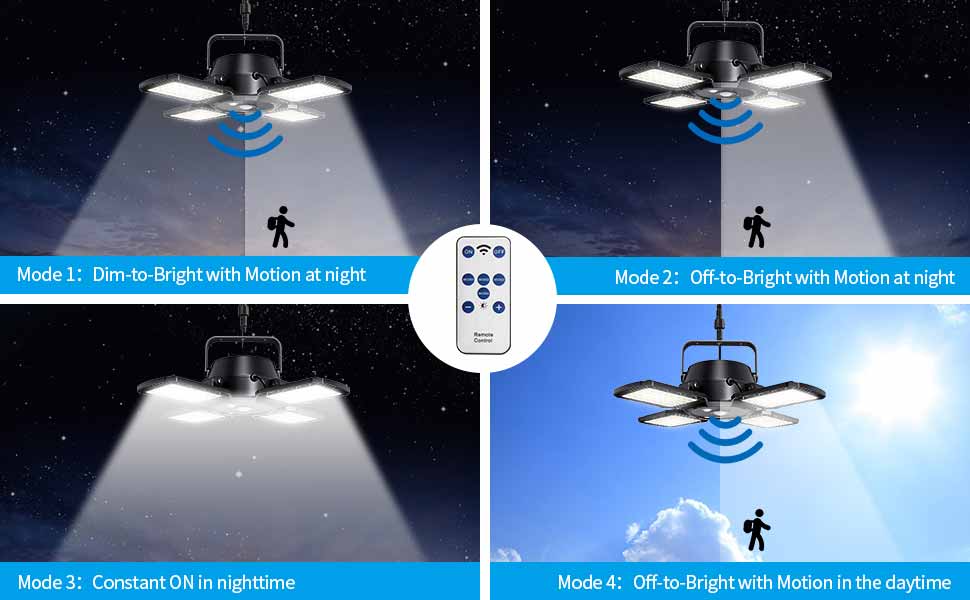 How to use Heliosglow 128 Led solar shed light
Connect the solar shed light to the solar panel so that you can charge the solar lamp.
Charge the available solar panel for about 6-8 hours under the sunshine before using it first.
Before the use of remote control to control the solar shed light for the first time, click on the ON button on the solar light to turn on the solar light.
Cover the solar panel with your hands to check if solar panels work well after 8 hours of charging.
Take out the Insulation Sheet first when you use the Remote Controller.
Light Fixture – Pendant Form
Power Source – Solar Power
Uses – Indoors, Outdoors
Special Feature – Adjustable
Material Used – Acrylonitrile Butadiene Styrene
Dimensions – ‎8.31 x 6.89 x 6.02 inches
Battery Requirement – 1 Lithium polymer batteries required
Controls – Remote Control
Luminous – 1000 lumens