About this Item
Waterproof IP68
6-12 Hours Working Time
White / Warm Light / RGB Light
ABS + Electronic Components
Auto ON/OFF Dusk to Dawn Function
Easy Installation
Our HeliosGlow solar LED pillar lantern outdoor lights are beautiful decorative items for the pathways, garden, yard, corridor, fence, handrail, balcony, etc., and practical and decorative lighting for various purposes. When you go out of the house and enjoy the beauty of the night view and illumination in your garden, balcony, yard, etc. provided by these solar lights, these outdoor solar led pillar lights will make a lasting impression on your neighbors and visitors at night. This solar pillar lantern light has high brightness LED that emits a soft light and features no glare. This garden stake light gives off an accent for the garden, pathway, and yard and adds a soft glow to your space, and creates a romantic setting.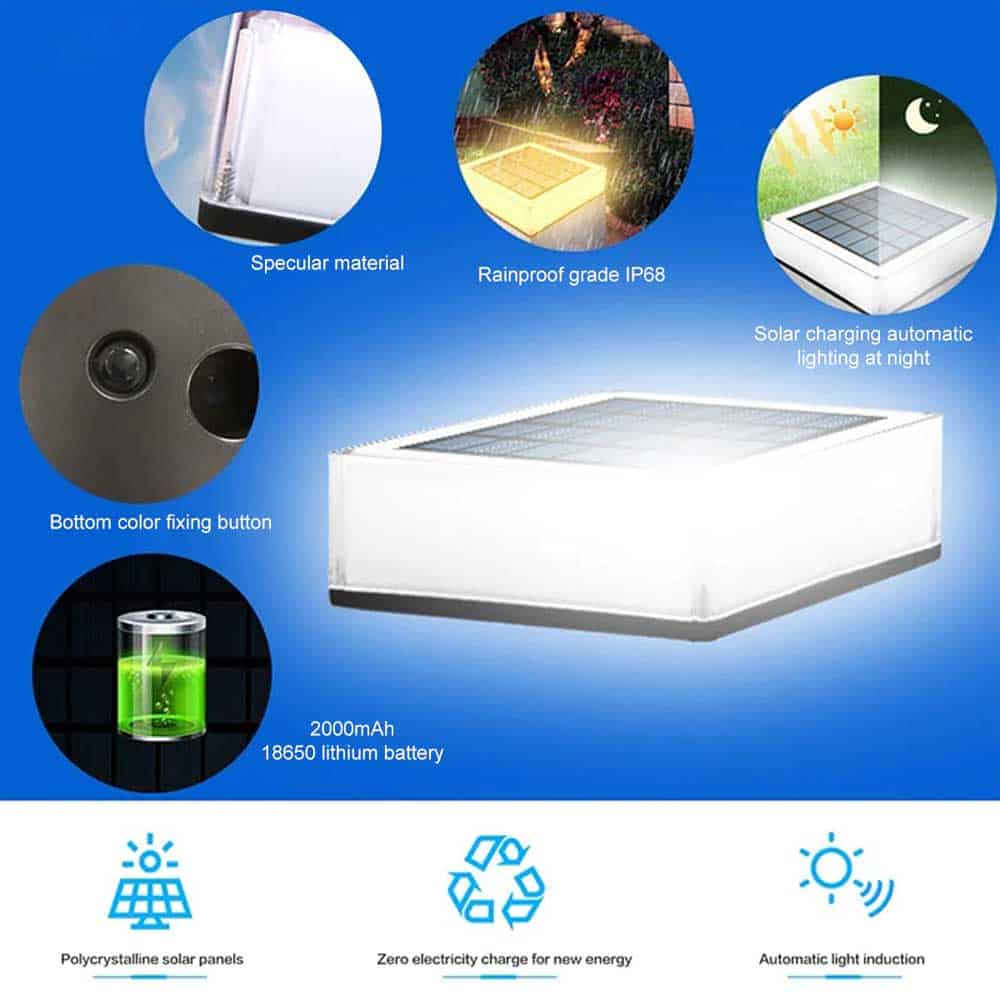 Lighting your garden, pathway, yard, balcony, or fence with these solar pathway lights would be a great idea. This HeliosGlow solar LED lantern pathway outdoor light is ideal for lighting up paths, yards, and gardens at night. Always pick a spot in your garden with enough sunlight to charge this solar light efficiently. This solar pillar lantern light comes in warm, white, and RGB color, after 6 – 8 hours of charging the solar panel in the sunlight on a sunny day, you can expect these solar pillar lantern lights to work for 6-12 hours depending upon the charging of the light.
The HeliosGlow solar pillar light has a 3.7V 2000mAh built-in battery and is equipped with a 5.5V/1.8W solar panel that has high conversion efficiency, and it can work for 6-12 hours at night after full charge i.e 6-8 hours under full direct sunlight. The lighting times of these solar pillar lights are 6 hours (100% brightness), and 12 hours (30% brightness). The charging time of these solar pillar lights is 6 hours(80% power), and 8 hours (95% power) (when the sun is full).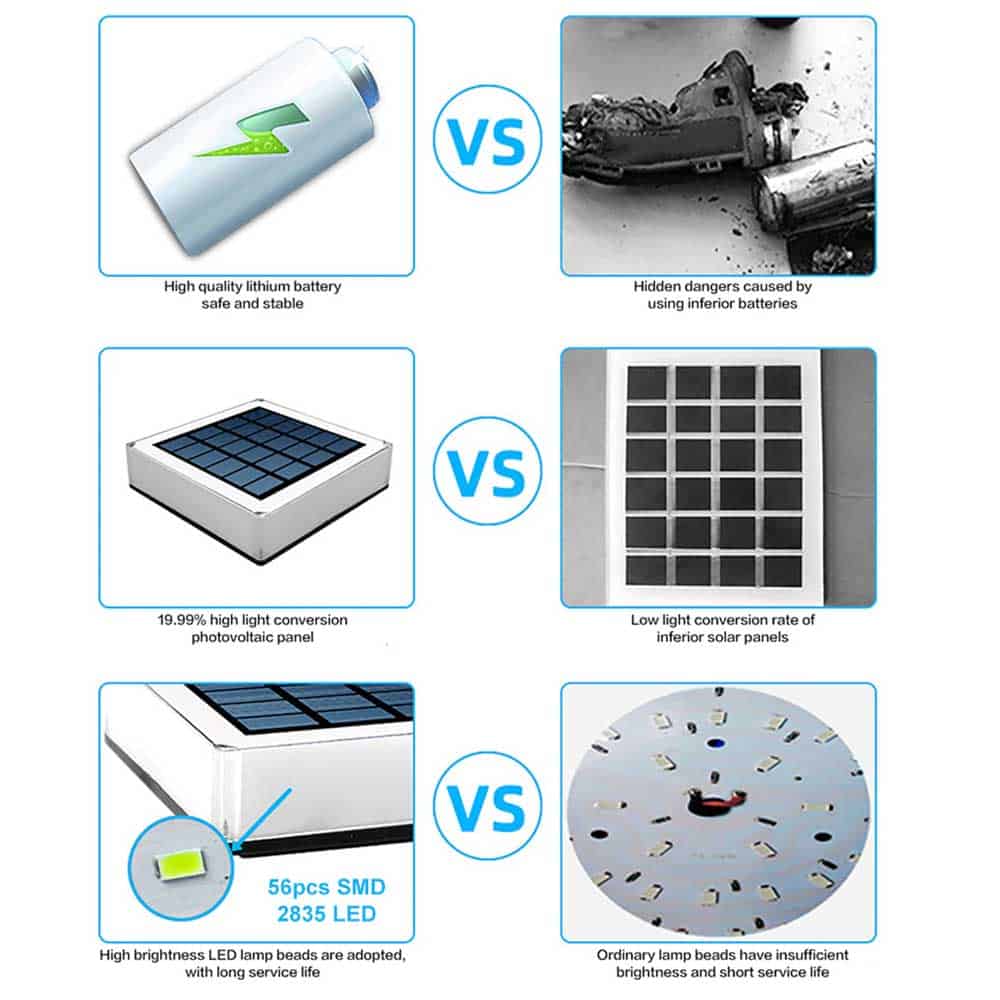 The solar pillar lantern light can detect brightness changes in the external environment. It will automatically turn on at night and turn off at dawn, due to its auto ON/OFF feature and it is eco-friendly and energy-saving. You can switch between the RGB color lights by long-pressing the switch, you can switch between the RGB color lighting modes such as gradient, or fixed, by short pressing the switch. Short press to switch the light color, then short press to switch the color temperature.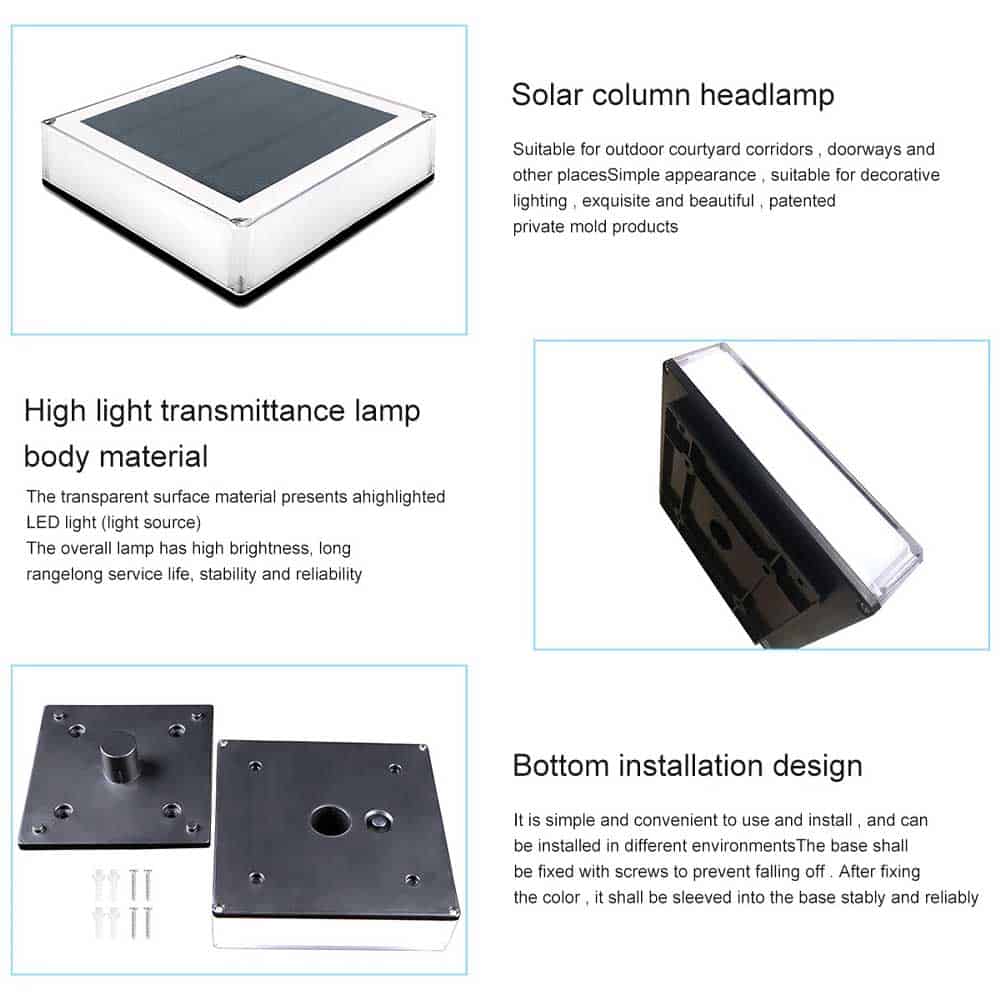 The HeliosGlow solar pathway lantern light has reached IP68 waterproof grade. The premium ABS shell can protect the lamp lights from bad weather like rain, sleet, snow, etc. And makes this solar pillar light suitable for outdoor use. This HeliosGlow solar pillar lantern light is built with ABS material which provides the product durability, and also this product is CE certified.
Light Fixture – Lamp
Power SourcE – Solar Powered
Usage – Outdoor
Special Feature – Waterproof,Auto On/off
Material – ABS + Electric components
Usage Type – garden, yard, paths, balcony
Solar panel size: 10.2 x 10.2cm/4 x 4in(L x W)
Item Dimensions – ‎‎‎‎‎‎‎‎‎13 x 13 x 4cm/5.1 x 5.1 x 1.6(L x W x H)