About this item:
Appearance: Lotus
Color (Optional): Purple, White, Yellow, Pink, Red
Material: EVA
Charging Method: Solar Energy
Switch Control: Light Control
Battery: 1.2V 600mAH NiMH Battery
Waterproof: IP65
Size: 28cm
Frequent Charging: Sufficient sunlight 6-8H, continuous lighting for about 8 hours
Material: Anti-Corrosion PC
Solar Panel: 2v/40MA Polysilicon
With unmatched aesthetic appeal of lotus flowers, these solar pool lights will make your ponds / pools look so much more inviting. These lotus shaped floating lights automatically charge under sunlight and the lights are automatically turned on when it gets dark owing to the sensors included in its thoughtful design. Speaking of design, these lotus lamps look very realistic, can float on water effortlessly and spin with the wind like a real lotus. Your ponds and pools are sure to catch the eyes of every guest you happen to host.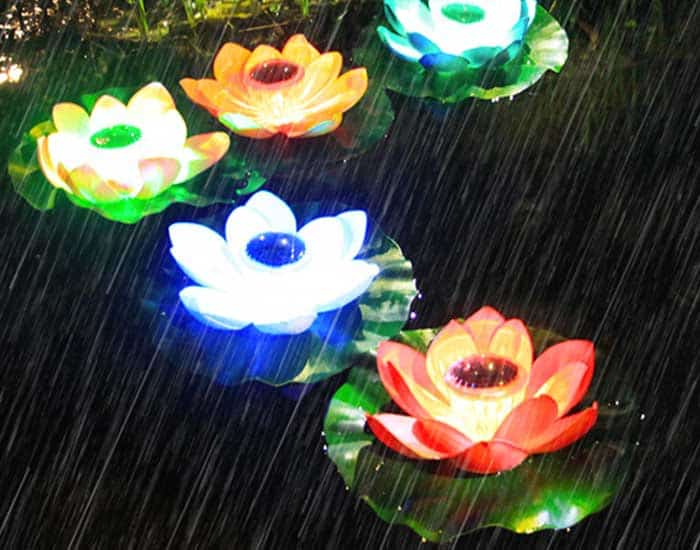 Powered by high-efficiency polysilicon solar panels, these floating lotus lights cost you nothing and run on abundant solar energy. They only need 5-8 hours of daily sunlight to keep working for as long as 12 hours in the dark. Further, there's no manual intervention required to switch the lights on or off. These lights are equipped sensors that can tell dark apart from light. As soon as the sun goes down, these lights illuminate on their own and as go off as soon as the natural light returns.
The durability of these is assured by a robust IP65 waterproof rating. These lights are approved for outdoor usage and will outlast most of your other home improvement investments.
Light Fixture – Pool light
Power SourcE – Solar Powered
Usage – Outdoor
Special Feature – Waterproof, Automatic on/off sensors
Material – Plastic
Room Type – Garden, ponds, pools
Item Dimensions – 28 cm